Join us for this year long creative journey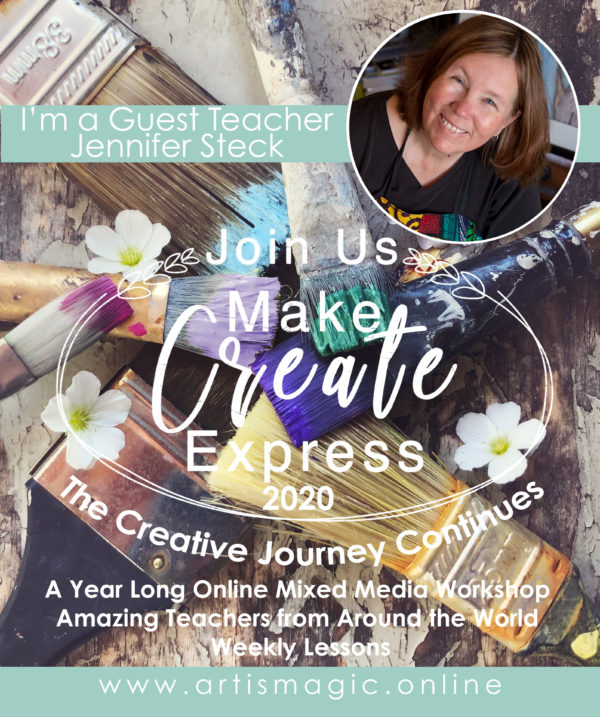 Hosted by: Galia Alena, Art is Magic
Instructor: Jennifer Steck and a fabulous variety of other instructors
Registration: Open
Available: Classes Start July 11th, 2020 with a new classes added weekly
52 Classes
From 26 instructors from around the world
Price: $147
You are cordially invited to Make Create Express 2020
I am thrilled to be included as one of 26 instructors for Make Create Express 2020.
The class launches on July 11th and one class is released each week, giving you time to learn and play. 
Learn techniques from a very popular and talented group of artists, including:
Jennifer Steck
Traycee Alane
Fonda Clark Haight
Emma Petitt
Lucy Brydon
Robin Mead
Lora Murphy
Pia Rom
Amanda Grace
and many more…
One of the main benefits of Make Create Express 2020 is having an opportunity to view and participate in classes from a variety of instructors with different styles who work in different mediums. What a wonderful way to explore a plethora of ways to create.
I will be teaching two classes as part of this offering. If you love patchwork paintings and intuitive critter creations, this is an opportunity to learn techniques that can build on what you already know.
Here's an overview of my two classes. 
Patchwork Pets
Using loose drawing techniques, create a critter that will be covered in a variety of patterns that create a work of art unique to each student. You can use the class inspiration photo or one of your very own furry family member! Beginners and experienced artists alike, will learn techniques that are transferable in your preferred medium and style.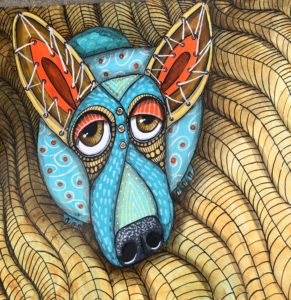 Critter Play
Create abstract backgrounds that inspire critters and their stories. We will begin playing with the background and, step-by-step, build a fun and quirky critter or critters that will be different for each student. Many of my critters come to life using these techniques. Perfection is over-rated…let's play!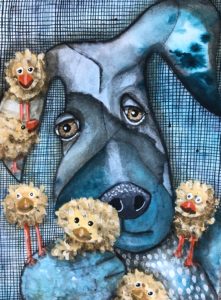 Sign up for our monthly newsletter to be notified of the latest offerings in Critter Country.