Get Started
This course is currently closed
The classroom will Officially Open on September 10th for your review prior to the first live session on September 16th at 6pm MDT (Mountain Daylight Time)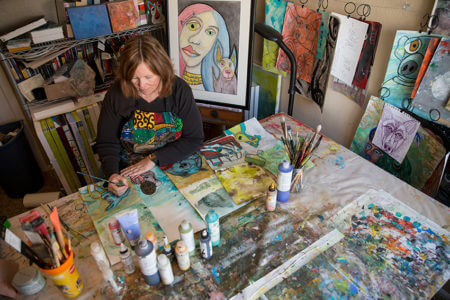 Welcome to Business or Pleasure, a class designed to help artists take their art journey to the next level. I am so excited you are here! 
There are many different paths on this road and each of us will be identifying areas of focus. While I have a class outline, I want to remain flexible to your ideas and needs so things could change as the course develops.
We will be meeting every two weeks on a live Zoom call that will be recorded and available to current and future class attendees. If we experience technical challenges either during the meeting that make continuing impossible or if the recording is not available, I will add another session just to ensure there are a minimum of four recorded sessions for students to reference to as they make plans for their creative future.
Four ninety minute Zoom group discussion sessions. 

Dedicated FB group where we can support each other. I will be active in the group on a daily basis from the beginning until two weeks after the final live Zoom call. After that time, I will be available as my schedule permits. What I've found is that we can learn best from each other. Please make sure to tag me if you have a specific question you would like for me to address.

One half hour private online coaching consultation with each student to be completed within two months after the final live Zoom call.


When we think about where we want to take our art, it's important that we clarify our specific goals. If this is going to be a business, we need to treat it as one. 
Suggested supplies: A dedicated journal or notebook where you can add all your thoughts, ideas and planning work. This becomes an amazing resource as you move forward in your art journey. 
Disclaimer: I am not an attorney or tax expert. Please seek out professionals in those areas as you set up your business to make sure you are in compliance with the laws in the area you live and work.
Check out the Inspired to Create Artist Interviews for some fabulous information from full-time working artists
I'm always inspired by other artists. I think one of my biggest surprises when I began this journey was how supportive other artists are and how many of them cheer me on every day. I wouldn't be where I am without them. Here's a great resource for you to get inspired. 
Inspired to Create featuring Deb Weiers