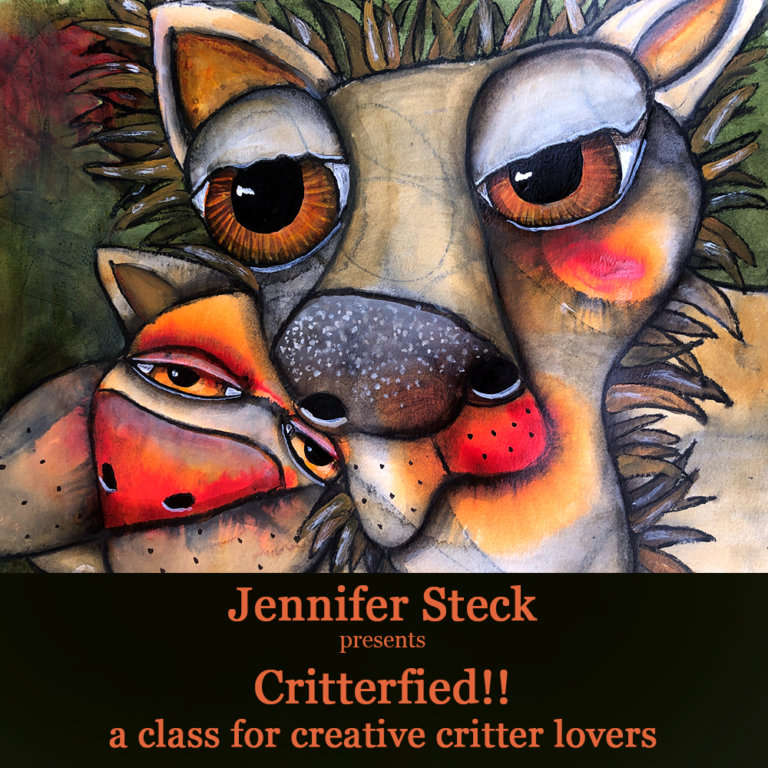 Welcome to The Critterfied Main Classroom Page!
Hello fellow critter lovers!
The classroom officially opens on October 16th at 8am EST. I will be sending out an email announcement at that time. Don't forget to join the Jennifer Steck Arts FB Community where you can share your work and ask questions. Everyone is wonderful and very supportive.  I will be in the group several times a day.
Lesson 1: Background Magic
Creating abstract backgrounds
Finding critters and characters in the paint
Bringing them to life
Lesson 2: Stretching the truth
Sketch play
Exaggeration and distortion
Critterfying your critters
Lesson 3: Bits and pieces
Focusing on the details
Body pieces and parts
Constructing unique and fabulous critters
Lesson 4: Telling the story
Building the set
Adding the characters
The final act
As always, I encourage you to use what you have and especially the colors you love. Watercolors, craft paints, collage, watercolor pencils…there are so many options. Below is the list of supplies I used in these lessons.
Golden Fluid and High Flow Acrylics-
Titanium White, Carbon Black, Titan Buff, Sepia, Shading Gray, Yellow Oxide, Raw Sienna, Quinacridone Nickel Azo Gold, Van Dyke Brown Hue, Green Gold, Diarylide Yellow, Teal, Sap Green Hue, Ultramarine Violet, Naples Yellow Hue, Phthalo Blue (Red Hue)
Daler Rowney FW Inks-
Flame Orange, Scarlett
Stabilo Marks All Pencil-
Black, White
Matte Medium
White Gesso
Spray Fixative
Black ink
Nib pen with 512 tip
Regular pencil
Eraser
Waterproof table cover
Water bottle
Tools to make marks
Roller
Ruler
Brushes in a variety of shapes and sizes
140# watercolor or mixed media paper
Drawing paper