Get Started
This course is currently closed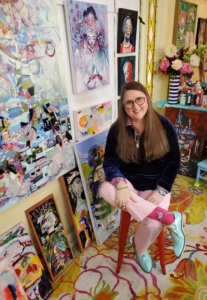 Thank you for registering for Inspired to Create – A Chat with Ardith Goodwin!
August 22nd at 10am MST (Mountain Standard Time)
We will host the interview on Zoom. You won't need to download Zoom on your computer or phone, you'll just need to click on the link that I'll send you a few days before the chat.
Click here for a basic link on how to join a Zoom meeting. All participants will have their video and audio turned off when they first arrive and have the option of activating those features. During the interview, everyone, except the guest and I, will be muted just to make sure there aren't any unexpected interruptions. 
There will be an opportunity to ask your questions in the chat box, which will be explained when we begin. We may will have time at the end of the interview for a bit of open discussion.
There is always a chance that the event will have some technology challenges. We will do our best to push through, but if it becomes too difficult, we may need to reschedule the event. There is also the possibility that your connection might not be strong enough to stay in the event. If that occurs, leave the meeting and rejoin with the original link from your email notification. That usually will resolve the issue. 
I'll send out an invitation email through Mailchimp on August 20th. This will include the private link to the Zoom meeting. If you don't get a link by the end of the day, please contact me through the website and we'll resolve the issue. Don't forget to check your spam folder. Please do not share this link. We have a limited number of slots and that could prevent registered people from attending.
Please note: This interview will be recorded so that others who can't make the event can view it at a later date. While the screen will default to the host and artist being interviewed, there is a possibility that you will be part of the recording. If you'd rather not have that occur, please leave the video function turned off when you are in the zoom meeting. 
How to follow Ardith Goodwin