Inspired to Create- A Chat with Geoffrey Gorman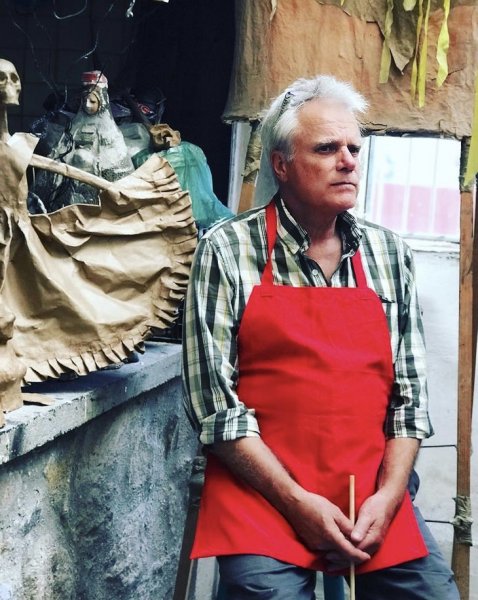 One of the classes I was really looking forward to in early 2020, was taught by the incredible creator, Geoffrey Gorman. He was heading to Denver and I managed to register before it filled. And then…COVID. I instantly connected with his work because of his clear love of animals. Now that the world is beginning to open up again, attending one of his classes is on my agenda. I'm thrilled he is joining me for this month's Inspired to Create chat. 
Geoffrey's Bio
Geoffrey is a practicing artist, creating his original found material sculptures in Santa Fe, New Mexico. He shows his work around the United States and had also exhibited in China, South Korea and Canada. Over the years his unique sculptures have been written about in the New York Post, Southwest Art, American Craft, American Style and Cloth, Paper, Scissors.
Gorman's fondness for animal subjects and use of found materials comes largely from his upbringing. He had a self-described "Huck Finn" experience of youth. He spent his childhood exploring the barns and woods around old horse farm he lived in outside of Baltimore, Maryland. The menagerie of pets, both domestic and wild, he kept as a child explains his fascination with animals.
"My father loved animals, so in my growing up we usually had four or five dogs," said Gorman. "At one time, I had a pet fox, a pet raccoon and a pet monkey. I had all these different animals –and a lot of animals that I caught, like snakes and squirrels."
The materials Gorman uses also spring from his childhood experiences and environment. "It's a real kind of throwback to being a kid, and I think the patina that I get with the material that I use, it feels rusted and worn and weathered. And this representation of the passage of time, I think comes from growing up on our old farm and huge barns and the sort of stuff we had lying around. And that's the surface I love the most."
Geoffrey's attraction to the found materials he uses stems from more than just childhood association. Gorman expresses his desire to push the traditional notion of what constitutes beauty and art: "The first I made ended up being made out of rags and wires and wax and really funky materials, because I was just sick of the art world using really fancy materials. I believed things can be made from just about anything." Gorman's potent imagination transforms those apparently worthless odds and ends from garbage-destined to gallery-bound.
Follow Geoffrey's Journey
Check out the places you can connect with Geoffrey, including taking one of his classes! He has one coming up in May in Sante Fe, New Mexico.
Click here for more details. 
My latest work
Upcoming Artist Chats
Studio News