(AKA: JENNIFER HAMMOND YOSWA)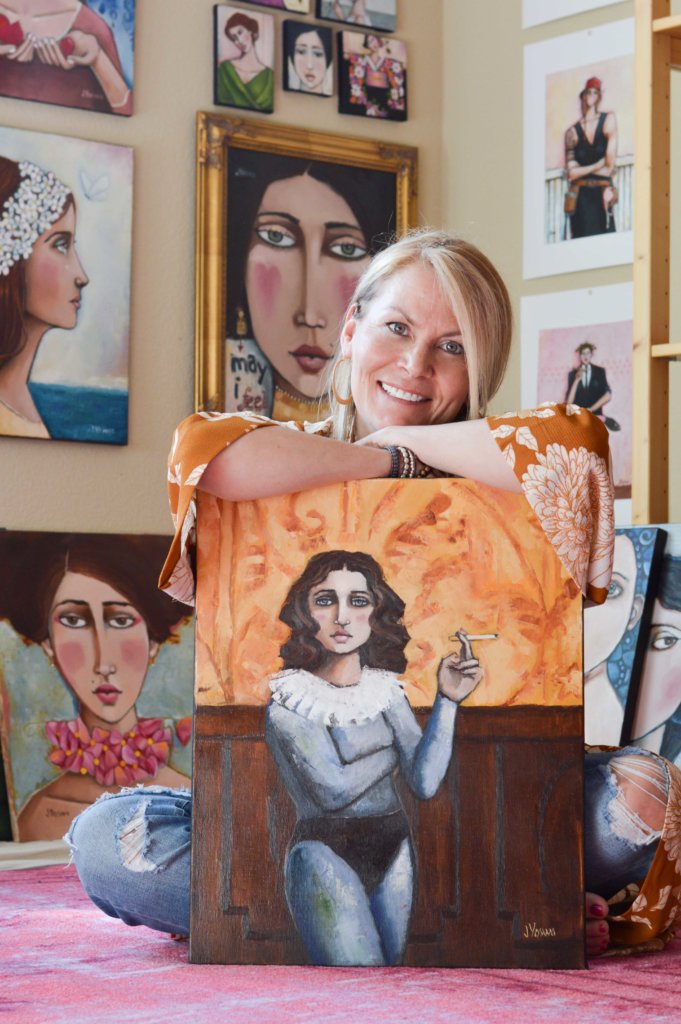 Don't forget to check out the video for Part I which is included below!
Several years ago, I discovered Jennifer Yoswa during one of Stephanie Gago's Online Auctions. Not only are Jennifer's paintings beautiful, her sense of humor, style and storytelling radiates from every piece. I was lucky enough to meet Jennifer in person when she stopped by a local art show I was involved in and we've become fast friends. I'm always eager to see what's next and I'm thrilled she is joining me for the both Parts I and II of the  Inspired to Create Chat.
____________________________
JENNIFER'S STORY
ONCE UPON A TIME… there lived a painfully shy little girl who found
her voice in pictures rather than words. She spent countless hours
drawing her feelings and thoughts. She was happiest when she was
drawing. She was an artist.
BUT… for reasons that can't be explained, she suddenly stopped. She
traded her tablets and pencils for gymnastic uniforms and textbooks.
She graduated from high school and college, became an elementary
school teacher, married, and had two beautiful children. She forgot all
about her art and the shy little girl who adored it.
EVEN THOUGH… she was happy and loved her life; something was
missing. She felt a creative hunger in her gut. In her attempts to satiate
this grumbling, she stenciled walls in her home, painted designs on
children's furniture, and even beaded collars on little glass bottles.
Nothing helped.
THEN ONE DAY… with no training at all, she worked up the courage to
apply oil paint to canvas. She felt something new and familiar at once.
That day changed her forever. The shy little girl, in her thirties at the
time, found her voice again. Painting became a part of her soul.
How to Follow Jennifer's Journey