Inspired to Create- A Chat with KJ Allison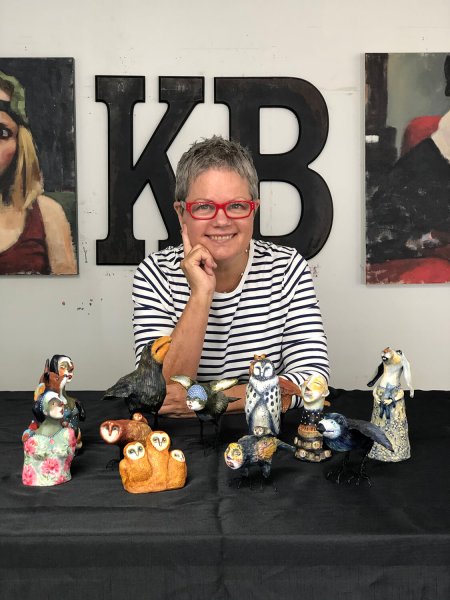 I discovered KJ Allison and her fabulous sculptures four years ago. There was something about her pieces that feel as though she's injected love into the clay. I commissioned KJ to capture Olive, my dog that I'd recently lost. The sculpture was magnificent and I treasure it to this day. We have had the opportunity to create together in both online classes and at an in-person at a Sara Burch workshop hosted at Jeanne Oliver's studio in Colorado. 
KJ is an inspiration in so many ways…as an artist, a teacher and a friend. I'm thrilled she's joining us for our January Inspired to Create Chat. We are going to have FUN!!
KJ's Bio:
I was born in Muskogee, Oklahoma, but have lived most of my life in Southern California (Orange County) where I raised my three children and still live with my husband of 49 years. I was an art major quickly turned to math major and recently retired from teaching at California State University, Fullerton. Teaching is my passion and I feel lucky to have been able to teach for 36 years at a wonderful college just 5 minutes from my home. 
Always with a thirst for art, I taught rubber stamp classes at the largest rubber stamp store in the world for 15 years. I somehow collected over 50,000 rubber stamps during this time and developed over 100 rubber stamp classes. It served as a creative outlet for me and my collection of rubber stamps were much appreciated by the college students who were disappointed if no rubber stamps showed up on their papers.
In 2010 I was diagnosed with a serious illness and fell away from art for a couple of years. But when I discovered online art classes I was back with a vengeance needing to practice art daily. If I go for even one day without doing any art I feel funny! For some reason I am driven to practice art daily for the sheer joy of it. My husband and family are quite supportive. My daughter has a love and talent for art and we often challenge each other taking turns choosing the subject matter to be interpreted using our completely different approaches.
My clay sculptures were first inspired by the talented Jeanne-Marie Webb and I will forever be grateful to her for opening up my world to include creating with clay, a world I may never have otherwise explored. I have enjoyed my hands in the clay more than I can say. So much, in fact, that in October, 2020 I offered my first online clay class called "Fat and Happy Birds" hosted by Kara Strachan Bullock at karabullockart.com. We had a wonderful turn out and now this month my second online class, "Little Bowl of Beings" will soon be available for registration. I am so excited about both classes and the work coming out of the first one was (and still is) amazing. I know it will be amazing for the second one too! I am thrilled to finally share my process and grateful the courses have been so well received.
We did have a few technical challenges during the chat that have been edited out, so there are places where the content may jump around a little. Despite that, we had a wonderful time.
Additional information from our Interview