Inspired to Create- Featuring Kimberly Santini, Ardith Goodwin, Kathy Lewis and Jennifer Steck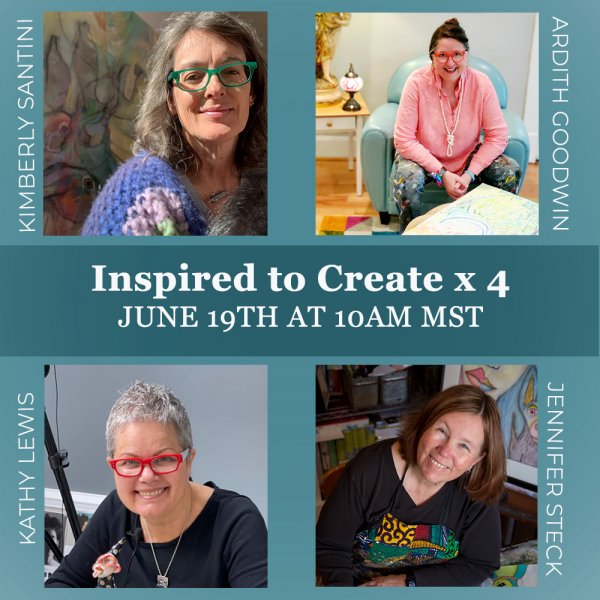 One of the many things I love about this creative journey is the incredible people who make up our artist communities. I wasn't sure quite what to expect when I started and it was such a fabulous surprise to find so many who were willing to share their processes, provide valuable feedback and support me and others every step of the way. My life has been enriched by these artists and by many of you who are always filled with encouragement and creative love.
This month's Inspired to Create Chat is an artist panel discussion. We haven't tried this format yet, so there might be some challenges. I have no doubt that any issues that arise will include hysterical joy and laughter.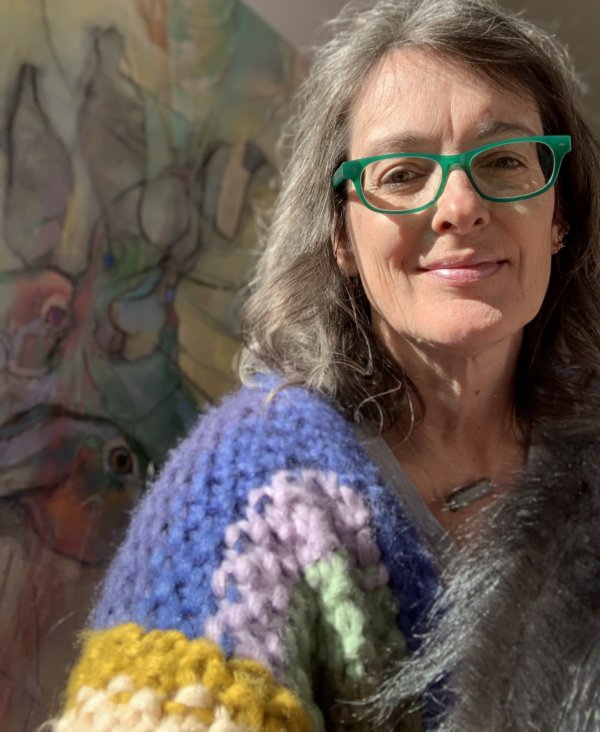 Kimberly's Bio:
Michigan painter Kimberly Kelly Santini was born an artist, but took some time figuring it out. She tried on many hats along the way, but art was always within arms' reach.. She has a BFA in painting and a BA in art history, an extensive professional background in many different art arenas and some odder life experiences (like writing automobile owners manuals). Her work is widely and enthusiastically welcomed, sitting in corporate collections and homes around the world, and has been honored with a variety of awards (most noteably, Santini was the official artist of the 2015 Kentucky Derby).
A daily painter (she created the wildly popular www.PaintingaDogaDay.com), Santini creates unapologetically beautiful imagery. She is a painter enamored with her materials and gesture. Line, form and the properties of paint drive compositions where drawing and arbitrary color create intriguing passages. Layered marks build a dream-like scape, yet it all is rooted in a representational base punctuated with her own symbolic visuals. Her ongoing paintings bridge spiritual mysticism and our own personal narratives.
Santini has gallery representation in the Hudson River Valley of New York, New Orleans, and Baltimore (MD). She paints, blogs and shares her work via social media, runs a local art journaling group and, pre COVID, taught multi-day painting workshops. She is currently bringing students into her studio virtually, for conversations about idea germination and style development, all while candidly sharing her explorations into mixed media and refining her own work. She's also been offering free art journaling lessons during covid, via live-streamed sessions on her studio Facebook page.
Inquiries are always welcome.
Website: www.kimberlysantini.com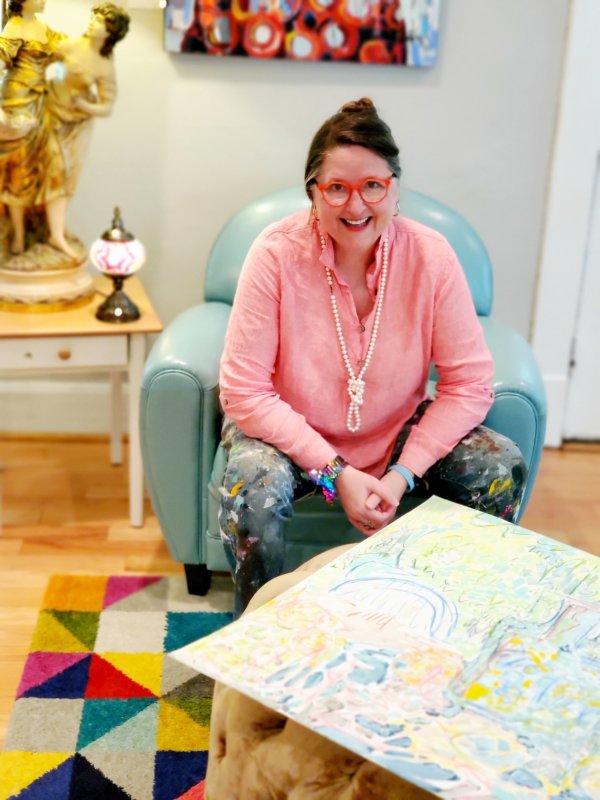 Ardith's Bio:
As a self-taught artist of 15 years, she found her gift of painting and visual transfer by accident. Elementary education was her path right out of college, but she unexpectedly faced multiple medical challenges and was forced to give up teaching and go on disability while her body healed. As luck would have it, a visit to the library and some time spent with her favorite watercolor books showed her that she had a gift for not only drawing, but the use of color and imagination. That experience transformed her life.
Now a full time working artist, Ardith views her scope of focus a bit differently than most. Mastery of craft to her is using her technical framework as she creates figurative works and non-objective abstracts in mixed media and acrylics connected to creative narratives. She builds paintings with fractured line, dynamic movement, transparent layers, complexity, and details from rich life experiences on canvas and paper. Ardith also incorporates visual elements of the unexpected from textile and assemblage additions to her 2-D works.
As an artist who teaches, she travels the U.S and abroad conducting art workshops, hosting creative travel journeys, as well as small group academic study for professional artists in her studio in Mobile, Al. She is a passionate advocate for teaching adults that their creative points of view and visual language matter as well as finding joy in the devotion and mastery of fundamentals.
Kathy Lewis (AKA: KJ Allison)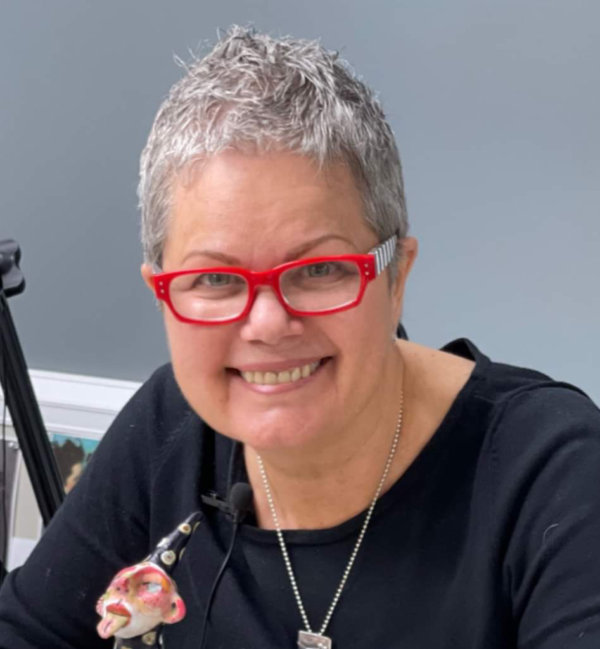 Kathy's Bio:
It has been my greatest pleasure to have been a teacher by profession my entire life. Recently retired from teaching mathematics at CSUF, I had prior to that taught 2 years of high school mathematics.
But always I had my finger in the art pie. As an only child I kept myself company with crayons, paint and colored paper. As an adult I visited a rubber stamp store and became totally enamored with the art of rubber stamping. I was the only teacher for 15 years for a beautiful store called Stampabarbara. It was a happy time in my life, driving for two hours to Santa Barbara to teach weekend classes twice each month, and it was heart breaking when this creative outlet closed its doors. But soon other doors began to open. I taught for many local rubber stamp stores in my area until soon they were all closing their doors!
For a time after that I did not do much art at all. It was a bit of a dark time, with my own personal health in danger having suffered terminal cancer in 2010 (from which I totally recovered).
I began taking online art classes (including practically every class Ardith Goodwin has every taught, fantastic!), met Kara Strachan Bullock, and took almost all of the workshops she hosted at her local studio. I was in heaven to have this new friend and later her wonderful studio located less than 20 minutes from home!
I also continued taking other online courses and one had a profound affect on my art journey. It was taught by Jeanne-Marie Webb called "the soulbearers". I would never in a million years have expected to fall in love with sculpting clay! When working with clay I felt peace and joy unlike anything ever before experienced. I have not put it down in over four years and continue to find great pleasure in creating with clay. It is my 'go to' art medium.
I create purely from the heart having had no formal sculpting education and somehow I am afraid to pursue the art of sculpting in a formal way for fear it would ruin the freedom with which I create. I hope to spread the joy of creating in clay, something that young and old, beginner and experienced, can enjoy.
I hope others can experience the feeling I heard in my granddaughter's comment recently when she said, "Grandma, I am so happy making this (clay sculpture). It is the most wonderful thing I have ever made."
Facebook
Instagram
Check out Kathy's Classes on Kara Bullock Art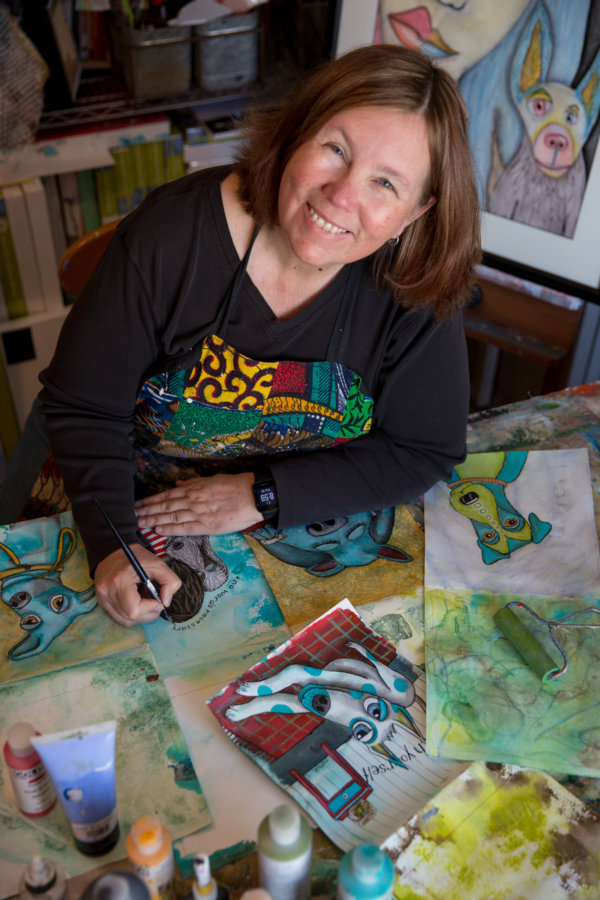 Jennifer's Bio:
I've explored creativity throughout my life in a variety of forms and fashions, always seeking to learn and grow. After a career in law enforcement of more than 30 years, I'm spending my time getting down, dirty and very colorful playing in paint and mixed media formats.
While I don't have a formal education in art, I've studied with many amazing artists over the years. The Art Student's League of Denver has been instrumental in my art journey. Also, special thanks to Ardith Goodwin, Stephanie Gagos, and Kara Bullock for their inspiration and encouragement.
In a time of extreme divides, my work strives to celebrate the beauty found in each person's uniqueness and the many things we share in common. I'm inspired by the people and critters who share our world, especially those enhancing our lives on a daily basis.
I share my home in Denver, Colorado, with my furry critters, Albus Dumbledog, Scarlett O' Hairy and my ornery and lovable seventeen-year-old black cat, Bubba.