The Quirk Show - September 22nd-October 1st 2021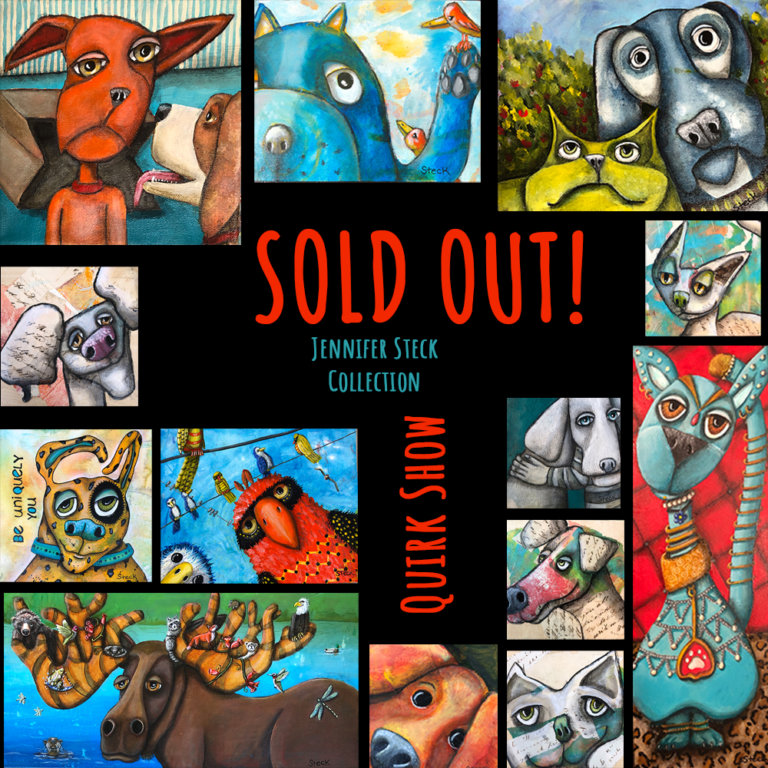 I'm thrilled to be joining Stephanie Gagos and a group of incredible artists at the second annual Quirk Show scheduled to begin September 22, 2021. My work will be featured beginning September 28th at 2pm EST! The show is hosted on Facebook. Below is a preview of all of my pieces that will be looking for new homes.
If you'd like to be invited to the show or would like to be notified when a piece becomes available, please let me know. I'll include tips on how to navigate the auction. If you've never been to a Facebook auction, it can be a bit confusing. Stephanie and I will be there to help you find your favorite pieces when they are posted for bidding. Pricing will be available on auction day.
In preparation, don't forget to join the Stephanie Gagos Auction Page on Facebook and to sign up for my newsletter so you get the latest updates.
I hope you will join us!
Bidding will open around 2pm EST. You must be a member of Stephanie's Auction Page to bid.
Finding the available paintings
Each day, Stephanie will announce the featured artist/s. On the top of the Auctions With Stephanie Gago page, she will link to the album where the creations will be listed. Comments will be opened up for bidding several pieces at a time. That's where you submit your bid. If you get lost, just look for Media near the top of the page. Once you click there, look for Albums and find the Album for the artist you are interested in. Also, make sure you indicate on the feed that you would like to see all comments, otherwise you may miss other bids on pieces you have your heart set on. I've found it works best to be on my computer. Sometimes things get out of order or lost when I'm using my phone. Stephanie Gagos and I will be available to assist. Other artists and collectors will also assist you if you ask a question on the page. 
Auction Terminology
BIN – Buy It Now Price 
This price will be higher than the opening price and allows collectors to call BIN on a piece and essentially, remove it from bidding. If you are the first one to BIN a piece, it's yours at that price. Not all pieces have a BIN price and they remain open for bidding until the closing time and date. Once a piece is posted, check that information so you know if there is a BIN price or if you want to be online before the piece closes to bid higher if you have a favorite piece you'd like to have.
Tag – On Facebook, if you get an official mention on a post, you will be notified under your notifications section. So if you ask to be tagged on a piece, the artists will do their best to officially tag you on the post so you will get notified and a direct link to the piece you were interested in. Sometimes as soon as a painting is posted, someone bids a BIN or buy it now price and the artist doesn't have time to tag you. Some collectors are waiting for a piece and the moment it comes available, they jump right in. 
Sample Listing
This is what a sample listing will look like. This piece does not show a BIN price, so bidding will continue until the closing time. There will also be a photo of the art. I'm not including it here to avoid confusion. This piece has already found a home. 
AUCTION by: Jennifer Steck
Title of Piece: "Cat Bandits"
Medium: Acrylic
Size: 7" x 5"
Substrate: 1 ½" Cradled Wood Panel
Starting Bid: $85
US Shipping: $15
Contact artist for International shipping rates
CLOSING:  Closing tonight at 9pm EDT  (Make sure you pay atttention to the closing times so you don't miss a treasure you have your heart set on.)
What Happens When You Win?
If you win a piece by purchasing it at the BIN (Buy it Now) price or as the highest bid when the bidding comes to a close, Stephanie will post a congratulations message with information on the artist's Paypal account where you can send payment including postage. Please pay promptly. Artists will ship your purchase and notify you of the tracking code so you know when to expect your treasure. Let us know when you receive it and if it meets your expectations. We are honored that you have purchased our work and we want to make sure you love it just as much, if not more, in person. 
Sign up for our monthly newsletter to be notified of the latest offerings in Critter Country.