Inspired to Create- A Chat with Jeanine Pennell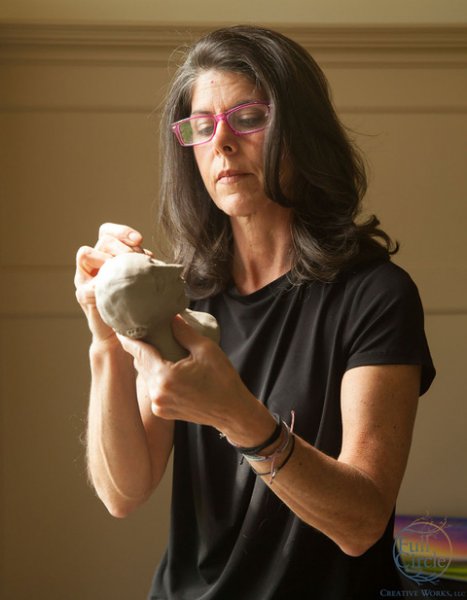 Some days, it's like a treasure hunt. I look for incredible artists working in a variety of mediums so I can follow along on their journey. I gain so much inspiration from all of them.
I discovered Bonetown Studios on Instagram and was immediately hooked. The characters make me laugh out loud. Who is the artist behind the characters? Jeanine Pennell.
It's such a treat to see who has come to life in her latest creations. Jeanine works in clay and creates incredible people with the most fantastic stories.  
I'm thrilled to introduce you to Jeanine Pennell.  It's an honor to host her for this chat and I'm excited to get to know her better. 
Jeanine's Bio
Jeanine Pennell was born and raised in New Jersey. She studied figure drawing at the Arts Students League in NYC followed by one year at Mason Gross School of Art (MGSA) at Rutgers University.
Jeanine left school to raise her son and began working at a local art and framing gallery. She enjoyed working with the clients and learning a trade. She always loved to make things and as a picture framer was creating something new and unique every day. After a few years working as an apprentice the opportunity arrived for her to open an art and framing studio of her own. She opened Frame of Mind Gallery in Holmdel NJ. The gallery was her creative outlet for over 25 years.
But something was missing. The gallery was very successful but she longed to create art again.
She signed up for some classes at a local pottery studio in the winter of 2017 and dragged her husband along for the ride. That is when the first of her figures began to appear. She discovered kiln fired paperclay and have been experimenting with stoneware and porcelain clay bodies ever since. Mostly self taught she has been able to push her process by creating challenges for herself. To master the art of face making she made "a face a day for 30 days' and most recently, during the pandemic, to push herself to make on a larger scale she began a series title 'Absurd Travel'.
Recently she has been teaching her technique to others through online/zoom workshop classes "Making Faces" with Whitemarsh Arts Center in PA.
She lives and works in her home studio on a small alpaca farm in Stockton, NJ with her husband, 7 alpaca, two dogs and 1 cat (all the children have grown).
Additional Information from our Chat