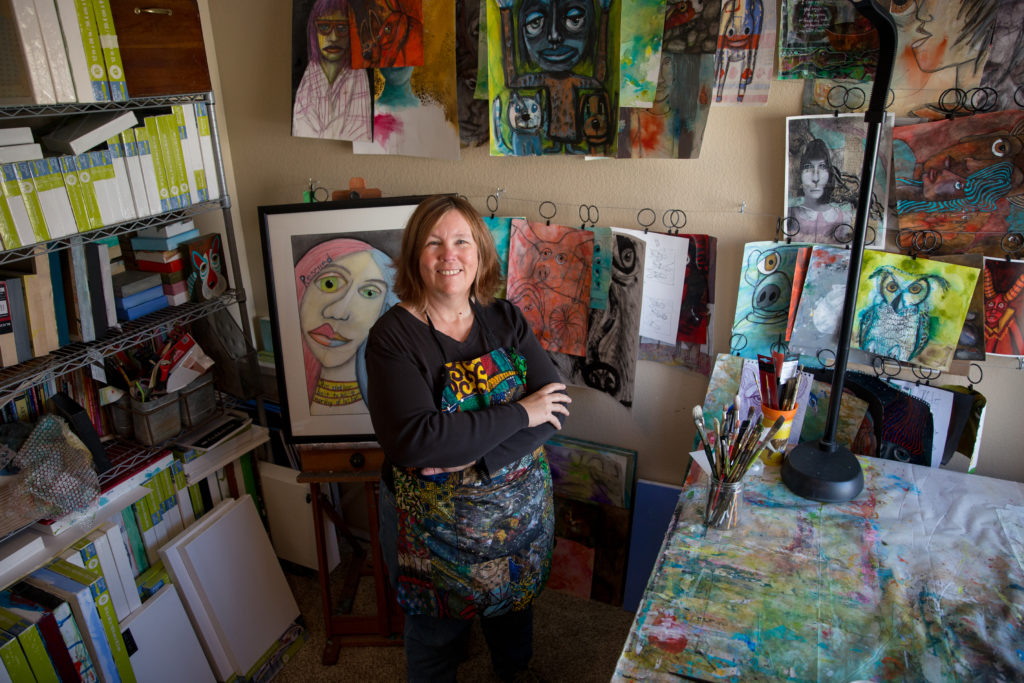 Hello, I'm Jennifer. Welcome to my world of whimsey, where joyful colors collide with fun and fur. I'm so glad you're here. As I'm sure you've already noticed, I love bold bright colors and animals, who insist on inhabiting the starring roles in most of my paintings. 
In a time of extreme divides, my work strives to celebrate the beauty and joy found in each person's uniqueness and the many things we share in common. I'm inspired by the people and especially the critters who enhance our lives. I hope my work creates joy, makes you smile and even laugh out loud. 
I've explored creativity throughout my life in a variety of forms and fashions, always seeking to learn and grow. After a career in law enforcement of more than 30 years, I'm spending my time getting down, dirty and very colorful playing in paint and mixed media formats. I've studied with many amazing artists over the years, including Sandy Ceas, Ardith Goodwin, and Jo Fitzell. The Art Student's League of Denver has been instrumental in my art journey. Also, special thanks to Stephanie Gagos, Kara Bullock and my family for their inspiration and encouragement.
I share my home in Denver, Colorado, with my furry critters, Albus Dumbledog and Scarlett O' Hairy.
My Creative Journey - one step at a time (AKA: My CV)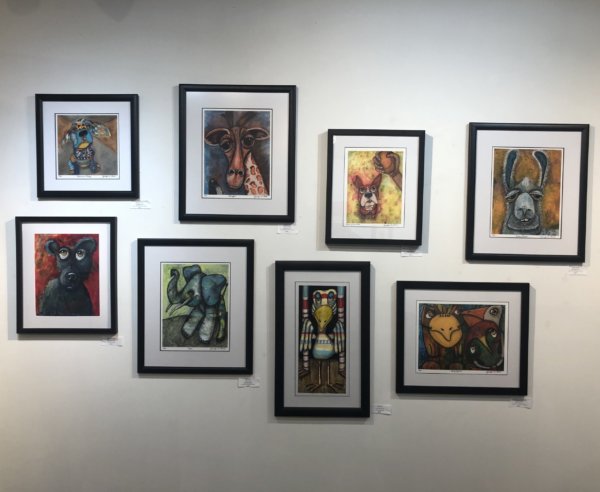 2022
Group Shows-
Park Hill Art Club Spring Show

Juried Shows-


Stephanie Gago's 2022 Quirk Show
Hosting Live Chats-
Inspired to Create- A Chat with Artists –

online interviews with Jodi Ohl, Geoffrey Gorman, Julie DeBoer and Jenifer Renzel
2021
Teaching-
Paint Your Heart and Soul 2021 – Online Class
Critters in the Wild – Currently in production
Business or Pleasure 2021 – Live Online Class
Business or Pleasure Fall 2021 – Live Online Class
Critterfied– Ongoing Online Class
Critter Country– Ongoing Online Class

Hosting Live Chats-
Inspired to Create- A Chat With Artists – online interviews with Kathy Lewis (AKA: KJ Allison), Kimberly Santini, Ardith Goodwin, Jennifer Yoswa, Fonda Clark Haight, Jeanine Pennell, Jennifer Price Davis, Connie Solera, Kristen Penrod and Robin Wade

Juried Shows-
Stephanie Gago's 2021 Quirk Show (Sold Out Show)
Stephanie Gago's 2021 Online Spring Show (Sold Out Show)
"Wild at Heart" an Invitational Show at Kanon Collective, Lakewood, Colorado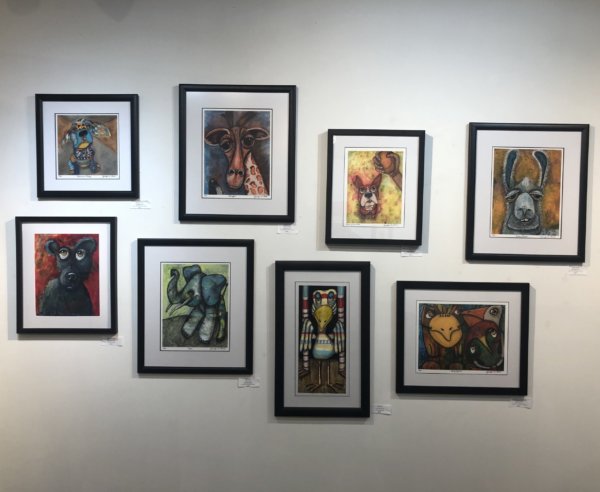 2022
Group Shows-
Park Hill Art Club Spring Show

2021
Teaching-
Paint Your Heart and Soul 2021 – Online Class
Critters in the Wild – Currently in production
Business or Pleasure 2021 – Live Online Class
Business or Pleasure Fall 2021 – Live Online Class
Critterfied– Ongoing Online Class
Critter Country– Ongoing Online Class

Hosting Live Chats-
Inspired to Create- A Chat With Artists – online interviews with Kathy Lewis (AKA: KJ Allison), Kimberly Santini, Ardith Goodwin, Jennifer Yoswa, Fonda Clark Haight, Jeanine Pennell, Jennifer Price Davis, Connie Solera, Kristen Penrod and Robin Wade

Juried Shows-
Stephanie Gago's 2021 Quirk Show (Sold Out Show)
Stephanie Gago's 2021 Online Spring Show (Sold Out Show)
"Wild at Heart" an Invitational Show at Kanon Collective, Lakewood, Colorado
2020
Teaching-
Critterfied– Online Class
Business or Pleasure – Live Online Class
Critter Country – Online Class
Make Create Express 2020- Online Class

Hosting Live Chats-
Inspired to Create- A Chat with Artists – online interviews with inspiring artists: Deb Weiers, Kara Bullock, Ardith Goodwin, Tiare Smith, Kina Crow, and Fabio Napoleoni
Park Hill Art Club Saturday Art Chat – online interviews featuring local Colorado artists and instructors: Kathleen Lanzoni, Alexander Soukas, Rodgers Naylor, Jeffrey Keith, Anita Winter, Steve Griggs, Jennifer Bobola and Laura McElfresh

Juried Shows-
September 22nd-October 2nd, Stephanie Gagos' Online Quirk Show
September 12-November 17th, Best of the Parker Artist's Guild, Parker, Colorado
Award : Third Place for "Covered in Fur"
June 12th, Virtually Inspired, Senior Planet Colorado
March 7-May 16, 2nd Bi-annual Pet Portraits: Animals We Love, Parker, Colorado
February 20th-22nd, 46th Annual Parkview UCC Fine Arts Festival


Award: Honorable Mention for "Covered in Fur"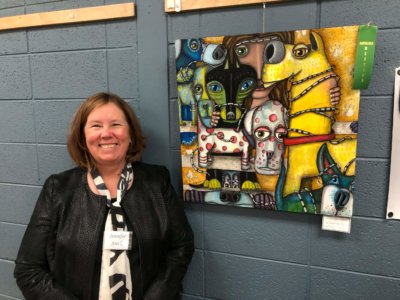 2019-
Teaching-
Quirky Characters: Bringing Fun Characters to Life- Park Hill Art Club
Creative Play-Parker Arts

Juried Shows-
Stephanie Gagos' 2019 Handmade Holiday Show, Online
 Greeley Art's Picnic, Greeley, Colorado
Art Student's League Summer Art Market, Denver, Colorado
Parkview UCC 45th Annual Fine Arts Festival, Aurora, Colorado


Award: Honorable Mention for "Right on Target"

Solo Shows-
Riverside Library, Evans, Colorado
Rise and Shine Coffee Shop, Denver, Colorado
Frame by Frame Shop, Denver, Colorado

Group Shows-

Park Hill Art Club Fall Show, Denver, Colorado
Park Hill Art Club Spring Show,  Denver, Colorado


Award: People's Choice 1st Place for "Snow Buddies

2018-
Juried Shows-
Stephanie Gago's 2018 Handmade Holiday Event, online
TrueArt West Fest,  Lakewood, Colorado
Best of the Parker Artist's Guild Show, Parker, Colorado


Recognition: Rescuers Need Love Too selected to be featured on show flyer and in press coverage

Romancing the Arts Show, Castle Rock, Colorado


Award: Honorable Mention Ribbon for Ruby