Inspired to Create- A Chat with Jennifer Price Davis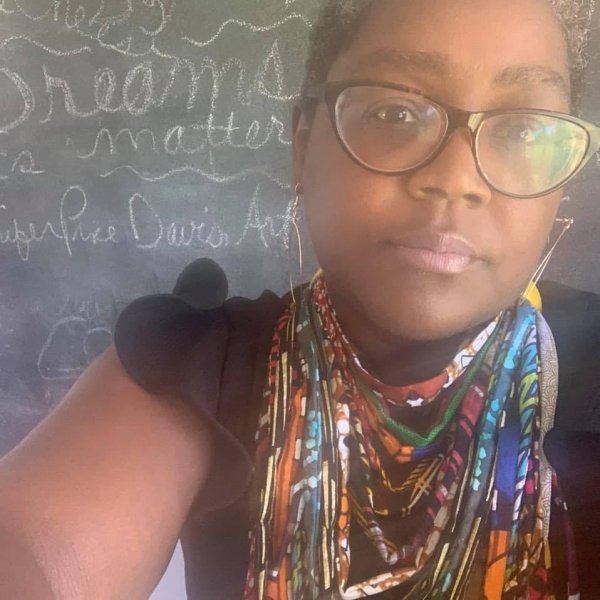 I first connected with Jen Davis and her work during online art auctions hosted by Stephanie Gagos. I love Jen's playful, yet powerful, creations and I'm so excited she is joining me for the May Inspired to Create Chat. I can't wait to learn more about her, her dreams and her process.
Jen's Bio:
I'm Jennifer Price Davis. I'm a Cleveland-based painter and writer. I am also a mom, a wife and a me. 🙂 I speak terrible franglais (french/english mix) and I paint what pops in my soul and demands to come to life. My work focuses pimarily on black culture and what it means to exist in black bodies, with an emphasis on black women and girls. I'm I'm particularly interested in illuminating the ordinary because there is something both achingly beautiful and immensely political, dare I say revolutionary, about the ability to exist and move about the world safely and confidently in ordinary ways. We aren't there yet and I aim to participate in our progress through every bit of my work. 
My background is psychology with an MA in art therapy counseling.  I am primarily a self-taught artist.  I also teach 1-3 grade at the best school ever. Before that, I was a career counselor and marketing professional.  
 As a girl, I desperately wanted to be Chaka Khan and Debbie Allen.  If you understand leopard print, you understand me.  And… I spent my formative years in a house filled with navy blue carpet and blue and golden yellow room accessories.  The couch was light blue crushed velvet.  We had a slide top stereo and it played 8 tracks.  There was also a white crushed velvet arm chair. This should explain everything.
Check out the places you can connect with Jen.