Inspired to Create- A Chat with Ardith Goodwin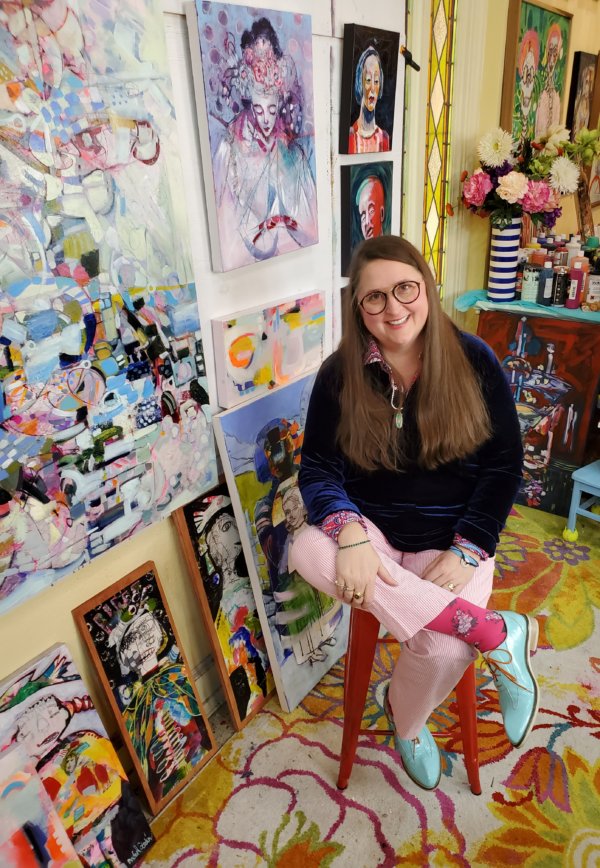 Our artist for the Inspired to Create chat for August is the fabulous, Ardith Goodwin!!
What can I say about Ardith? There is so much, but let me start at the beginning. In the spring of 2017, I discovered a class Ardith was teaching in Oklahoma. I'm not even sure where I found the information and I really didn't know much about her other than I loved her colorful and bold style. While my knees weren't quite knocking when I showed up the first day, the butterflies in my stomach were doing cartwheels.  Over the next three days, I laughed, learned and experienced the generosity. encouragement and support that Ardith shares with everyone. 
Later that fall, Ardith launched an online year-long Push Past Ordinary class and within a few weeks, I had discovered my style. There is definitely more to the story and everyone knows I could go on and on and on…so let me just wrap it up. Ardith Goodwin is the person who lit the fire that started my current journey and made me believe. I can't thank her enough. And for those of you who don't know her yet, you might just need a little Ardith in your life, too! 
As a self-taught artist of 15 years, she found her gift of painting and visual transfer by accident. Elementary education was her path right out of college, but she unexpectedly faced multiple medical challenges and was forced to give up teaching and go on disability while her body healed. As luck would have it, a visit to the library and some time spent with her favorite watercolor books showed her that she had a gift for not only drawing, but the use of color and imagination. That experience transformed her life.
Now a full time working artist, Ardith views her scope of focus a bit differently than most. Mastery of craft to her is using her technical framework as she creates figurative works and non-objective abstracts in mixed media and acrylics connected to creative narratives. She builds paintings with fractured line, dynamic movement, transparent layers, complexity, and details from rich life experiences on canvas and paper. Ardith also incorporates visual elements of the unexpected from textile and assemblage additions to her 2-D works.
As an artist who teaches, she travels the U.S and abroad conducting art workshops, hosting creative travel journeys, as well as small group academic study for professional artists in her studio in Mobile, Al. She is a passionate advocate for teaching adults that their creative points of view and visual language matter as well as finding joy in the devotion and mastery of fundamentals.
Connect with Ardith at these links
Sign up for our monthly newsletter to be notified of the latest offerings in Critter Country.